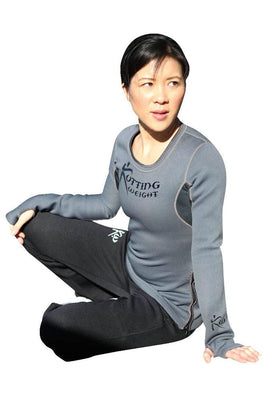 100% SATISFACTION GUARANTEE: If you are not completely satisfied with your purchase, you may return it and we will issue a full refund or credit your charge card for what you paid for the product(s).
Details
WOMEN'S SAUNA PANTS V1
Our Women's Sauna Pants are specifically designed to provide an exceptional fit for our female customers. The result-oriented neoprene fabric technology makes our Sauna Pants the optimal addition to your workout, boosting sweat levels and burning more calories than ever. Lose weight as you workout, without sacrificing comfort.
Consider Kutting Weight Women's Sauna Pants to add to your KW collection. It's not easy to lose weight, but these pants can greatly aid you in your quest for general weight loss, an amplified workout, or cutting weight for a photoshoot.
KEY FEATURES
Flexible elastic neoprene fabric
1.7mm thick
Triple reinforced
Comfortable fit that allows more of your skin to breathe
Drawstring for optimal sizing
Sits low on hips
Specifically designed to move with you through any type of exercise
BENEFITS
Increased metabolism
Increased flexibility
Immune system detox
Calories burned
Increased mental and physical toughness
CARE INSTRUCTIONS
The best way to care for your KW clothing is by rinsing it off with water and letting it hang dry. You can even do this in the shower after a workout for more convenience! Occasionally machine wash and dry using regular laundry detergent. Rinse your hands to ensure the clothing's longevity.
SAFETY MESSAGE
Do not overexert yourself. Stop exercising immediately and consult your doctor if you experience pain or tightness in your chest, irregular heartbeat, shortness of breath, or if you feel faint, nauseous, or dizzy. Before starting this or any exercise program, consult a physician or health professional. Make sure to drink plenty of water before, during, and after exercising.
*This product is CA Prop 65 compliant.*
92%
of reviewers would recommend this product to a friend
Women Sauna Pants
I have several KW pieces and they never fail.
Excellent product!
I've have lost lots of weight by wearing my Sauna Suit during my HIIT training three days per week
Fit Well and Comfortable
Pants are comfortable and stylish. Great to lounge around on cold days.
Reviewed by VR, from United States
Verified Buyer
I recommend this product
Awesome product
I have all of the V1 and V2 products and I love them all I use them every single day (now that I am working from home). The only minor (big) problem I have that you KW should take in consideration for your next version is to think about those people specially ladies that are petite. I do not like to be rolling my pants up to be able to walk comfortably or folding my sleeves up.
Reviewed by Natty D., from United States
Verified Buyer
I recommend this product
It helps you sweat
If you do your workout such as the treadmill between 4.0 to 6 0. You will sweat alot.
Reviewed by Rubi A., from United States
Verified Buyer
I recommend this product