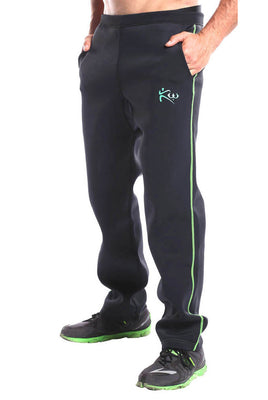 100% SATISFACTION GUARANTEE: If you are not completely satisfied with your purchase, you may return it and we will issue a full refund or credit your charge card for what you paid for the product(s).
Details
MEN'S SAUNA PANTS V2 COLLECTION
Our Men's Sauna Pants are newly designed to meet your fashion and fitness needs. These Kutting Weight Pants are made entirely from our improved 1.7mm neoprene material, which moves with your body through any type of workout. These new and improved pants include bright green stitching along with our signature Kutting Weight Honeycomb mesh material for more breathability. These pants have the same great heat enhancement effects as the Original, but with improved technology and style, and are essential to help you bring on a good sweat and burn more calories this winter.
For those looking through the KW Men's Collection or just browsing through all our products, there are countless fashionable alternatives to boost and maintain your fitness goals. Cutting weight is no small task, but with the right gear, men can take their results to the next. Check out Kutting Weight Men's Sauna Pants today!
KEY FEATURES
Flexible elastic neoprene fabric
1.7mm thick
Triple reinforced
Comfortable fit that allows more of your skin to breathe
Drawstring for optimal sizing
Sits low on hips
Specifically designed to move with you through any type of exercise
BENEFITS
Increased metabolism
Increased flexibility
Immune system detox
Calories burned
Increased mental and physical toughness
CARE INSTRUCTIONS
The best way to care for your KW clothing is by rinsing it off with water and letting it hang dry. You can even do this in the shower after a workout for more convenience! Occasionally machine wash and dry using regular laundry detergent. Rinse your hands to ensure the clothing's longevity
SAFETY MESSAGE
Do not overexert yourself. Stop exercising immediately and consult your doctor if you experience pain or tightness in your chest, irregular heartbeat, shortness of breath, or if you feel faint, nauseous, or dizzy. Before starting this or any exercise program, consult a physician or health professional. Make sure to drink plenty of water before, during, and after exercising.
*This product is CA Prop 65 compliant.*
Reviewed by Amanda B., from United States
I recommend this product
Amazing
Fits great and better than those cheap plastic suits. I'm loving it so far. Lets get our sweat on.
Reviewed by Paul C., from United States
Verified Buyer
I recommend this product
Very durable, constructive
Very durable, constructive
Reviewed by Didenko Y., from Ukraine
Verified Buyer
I recommend this product
Yuriy
Very good quality. Perfect fit.
Reviewed by David H., from United States
Verified Buyer
I recommend this product
Sauna shirt and pants
💯 love them. I would recommend this company and their product to anyone who wants to take their workouts to the next level