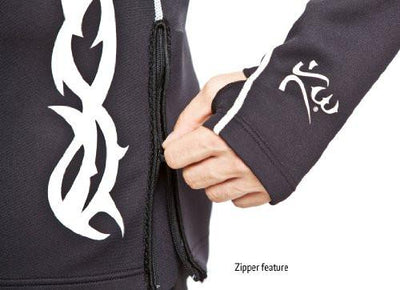 100% SATISFACTION GUARANTEE: If you are not completely satisfied with your purchase, you may return it and we will issue a full refund or credit your charge card for what you paid for the product(s).
Details
Clearance Item - Limited Sizes Available
Check out our new V3 Shirt Here, featuring an updated size chart!
MAXIMIZE THE RESULTS YOU SEE WITH OUR MEN'S SAUNA SHIRT AND YOUR WORKOUT WILL NEVER BE THE SAME.
One of the KW staples for cutting weight, this Sauna Shirt is guaranteed to make you sweat. Our Kutting Weight Men's Shirt offers a sleek, stylish look while still delivering on the results you've come to expect from us. Whether you're looking to cut weight for a diet, competition, or lifestyle changes, this shirt is perfect for you. Check out Kutting Weight Men's Sauna Shirt today!
KEY FEATURES
Flexible elastic neoprene fabric
1.7mm thick
Triple reinforced
Comfortable fit that allows more of your skin to breathe
Side zipper for ease
Mesh armpits
Thumbholes to keep sleeves down
Specifically designed to move with you through any type of exercise
BENEFITS
Increased metabolism
Increased flexibility
Immune system detox
Calories burned
Increased mental and physical toughness
CARE INSTRUCTIONS
The best way to care for your KW clothing is by rinsing it off with water and letting it hang dry. You can even do this in the shower after a workout for more convenience! Occasionally machine wash and dry using regular laundry detergent. Rinse your hands to ensure the clothing's longevity
SAFETY MESSAGE
Do not overexert yourself. Stop exercising immediately and consult your doctor if you experience pain or tightness in your chest, irregular heartbeat, shortness of breath, or if you feel faint, nauseous, or dizzy. Before starting this or any exercise program, consult a physician or health professional. Make sure to drink plenty of water before, during, and after exercising.
*This product is CA Prop 65 compliant.*
98%
of reviewers would recommend this product to a friend
I am a female
So I love love love love the look of the black and white top I am a female and they did not offer it to us girls. So I ordered it anyway and it is amazing I got a size small. I am a size X small to small in most women tops I am able to layer and the top fits me like a glove. I love that it has the holds in the arms. Today 10/6/2020 I wore it for the 2nd time to the gym and man the sweat was real. I had to wipe down everything I touched. So if you are a woman and you are on the fence please get off the fence and buy it now.
Great product
Ordered this in a man's size small and it fits (comparable to a ladies small), used it for the first time this morning walking over my ladies Tank V3 Sauna Suit, getting cooler outside. This was perfect for my workout.
Customer service and product
This product and company by far are the best in the business. Product way ahead of any other sauna suits out there. Also Evan who took my call could not be more helpful. Great professional great person.
Reviewed by Cornelius, from United States
Verified Buyer
I recommend this product
The best sauna shirt ever made
I have the short sleeve and I bought the long sleeve first and I completely love this. It cuts water weight, I look great and losing inches off my back, arms and waist!
Reviewed by Andrea H., from United States
Verified Buyer
I recommend this product
I love this shirt I
I love this shirt I have to get more clothes from this great company